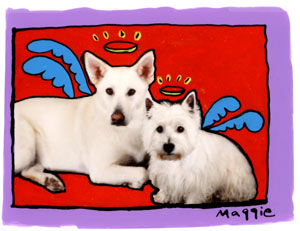 About Maggie's Angels
My love for animals started early and has been a consistent thread throughout my life. My first pet was a turtle, then came a parakeet, then some goldfish. We lived in small places and traveled a lot so a dog was out of the question.
I was 13 years old when my wonderful parents surprised me with a beautiful puppy. The breed of the dog was unknown, and it didn't matter to me one bit; she was my first dog. I named her Lady and she was wonderful. We were together all the time and were very close. She was two years old when she had a son we named Blackie, he became my little sister's dog. Lady was only with us for 5 years, when one night she ran out of the house and was hit by a car. I was devastated! and even though we had Blackie, he was not my Lady. Her memory is always in my heart even to this day.
I soon grew up and left for college, always longing for another dog of my own. I went to Columbus College of Art and Design in Columbus, Ohio. I was ready to have a companion and it came in the form of a Westie (West Highland Terrier) I named Perry. After I graduated from CCAD, I became an Art Director for Shoebox Greetings at Hallmark Cards Inc., in Kansas City, Missouri. I was in charge for the everyday line, which included Birthday, Friendship and Special Occasions. When I was working there, I decided it was time to get a big dog for protection. That's when Fe (pronounced Fay), a white German Shepherd, came into my life. I worked at Shoebox for 3 years and then I married my best friend from CCAD and became a Freelance Artist and also worked for my husband's company Blue Sky Graphic Communication, Inc.
Perry and Fe were the two greatest companions that anyone could ever dream of. Perry had the personality of a Great Dane, never realizing how small he truly was. He was confident, loyal, funny, and kept me on my toes. He passed away in 2002, at the age of 14. It's hard to think of him without my eyes watering, I still miss him very much.
Fe was abused by whomever owned her previously and was in bad shape when I got her. It took a while to get her physically and mentally healed, but she became a great gift from God. She could never do enough to repay me and show me how grateful she was. Sweet, affectionate, tolerant, and respectful sums up what a wonderful dog she turned out to be. She passed away in February 2005, she was 2 months shy of turning 15 years old. It was the hardest day of my life.
I am grateful they both lived such long and great lives. They were with me through my college years, my first job, my wedding, my becoming a mother, and all the different places we lived. They were with me all the time, even on vacations. They even helped me raise "Carter" ˆ a Guide Dog I raised for Southeastern Guide Dogs, Inc. I know there are so many of you with the same type of relationship with your dog, cat, horse or any of the wonderful pets we have in our lives.
I now share my life with my husband Kent, my two sons Lucas and Max, my horse Luna, two Pygmy-Nigerian goats named Lightning and Trixie, an albino parakeet we call Dove, a gold fish named Survivor Bob, and the "Stars" of the show Angel, a very happy, energetic, and spoiled Westie and Sky and Australian Shepherd.
My artwork is for all who share the colorful, wonderful companionship these great creatures bring to us every day. I hope you love my "Angels" as much as I love painting them.
Maggie's Angels is created and dedicated to my angels - Lady, Perry, and Fe.