Maggie's Angels
Commission Gallery
---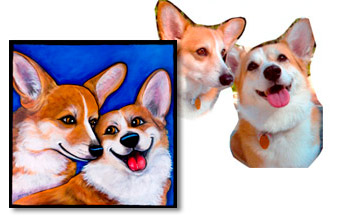 Albert & Vicky-Pembroke Welch Corgis


We love our little Corgis and never thought that anyone could capture them in a painting. Maggie proved
us wrong. She is a talented artist and captured the personalities of Albert and Victoria to a "T" . Maggie didn't just look at some pictures and paint our babies, but took the time to really get to know them: their personalities, characteristics, and all those little things that make them special. Vicky's playfulness and Albert's seriousness and devotion come across as almost human, and both with that famous Corgi smiles.

Maggie's work is excellent and reflects her talent and love of animals.
Thank You Maggie!!!!!!!!!!!!!!!

Jeff and Sonja, Ocala, Florida
---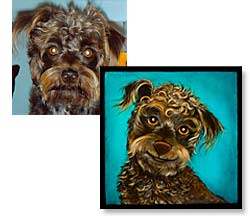 Bailey-Schnoodle

Hi Maggie,
We are building a house in Ocala, and I'd like to commission you to paint our dog's portrait. We are putting in a puppy shower, and I'd like to have Bailey's picture on a 12X12 tile above it. I then have the idea to get each of her "friends" to autograph a surrounding tile with the paw print. I think it could be really cute. Would you be available to paint her portrait? I am attaching a picture of her so that you can get an idea of just how cute she is. I need to get a good face-on picture, though. She's really hard to photograph because of her dark coloring. Thanks so much, and I look forward to talking with you.
Carolyn Grantz
*Since I do not paint on ceramic tiles, we came up with the idea of painting her portrait on a 12"x12" Cement Board because it would hold up better than wood in a humid environment. I love how this piece came out, and it was so much fun every time they all came over, because Bailey and our 2 dogs, Angel and Sky became friends, and loved playing together.
When Bailey's portrait was completed Carolyn wrote:
Maggie,
Steve & I were thrilled with your portrait of Bailey. We feel you really worked so hard to get to know her personality & capture her spirit. You have amazing talent & your attention to detail is remarkable. We are really looking forward to featuring your portrait of her in our new home.
Thank you so much.
Steve, Carolyn, and Bailey, Ocala, Florida
---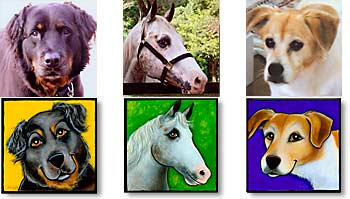 Lila, Long Haired Rottweiler
Junior, Appaloosa Horse
Petey, Beagle Jack Russell Mix


Kandice Commissioned me to paint Junior and Lila for her mother and Petey for her grandparents as a Christmas present.
Morning Maggie,
Happy New Year!!!
We had a fantastic holiday. Hope yours was spectacular. My Mom and Grandparents loved the portraits. My Grandparents are ordering some items from the cafepress merchandise line, for one of their daughters so she can have the picture...since Pete was originally my Aunt Kandy's before moving to Minnesota.
Well, my mom absolutely adored the portraits, I was running around the house before we gave them to her looking for tissues, I told her you are going to cry So we all sat and watched as soon as she started to see the portrait her eyes teared up and she began to cry. It was great, I don't know if we have ever been able to give her a gift that has meant so much. The next day she went to farm she took them to show her horse instructor, she was so excited. I am thinking that Dad is going to try to get the new jack russel puppies done for her birthday....so we'll see. I was just checking my emails and went to your website to Lila's and Juniors product line and they are fantastic, I can't wait to get her a mug and tee shirt! Thank you!
Talk to you soon,
Kandice Kerstin, Ocala, FL
---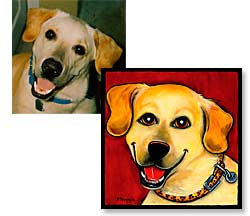 Tango, Yellow Lab

Carolyn commissioned me create this portrait of their beloved Tango for her Husband. She writes:
Good morning Maggie,
How Sweet! He is beautiful--thank you so much! Love it Love it. I want it all.
Carolyn Lindsay, Ocala, FL

My husband loved the portrait, he said: Thank You! Maggie, In your painting we can see Tango's heart in his eyes. Thank You for maintaining the memories.
Ted Lindsay, Ocala, FL
---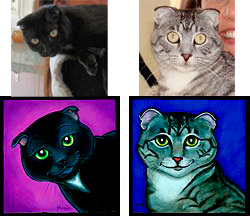 Thompson & Maverick - Scottish Fold Cats


OMG!!!!!!!!!!! I LOVE, LOVE, LOVE THEM! I absolutely was 'mouth-wide-open' when I saw the paintings of my kitties. I think they are SO cute and wouldn't change a thing. THANK YOU for making them so real. You hit the nail right on the head with the eyes and character. You were able to take my photo's of my beloved kitties, who I unfortunately no longer own, and turn them into a life like portrait with the same energy that the kitties have. I say hi to my kitties when I get home everyday. In fact, when I first got the paintings, I was quite emotional as there was so much life to them but yet I couldn't feel their fur :-(
I can't thank you enough for all the wonderful work you did, and for being so sweet and taking the time to make these portraits so special. It's nice that you are personal and not just there 'for business'. You were able to catch every detail in the pictures I provided, as well as, really adding that special touch to make them a true, one of a kind painting."
Thanks Maggie!

Crista Solano, Fort Myers, FL
---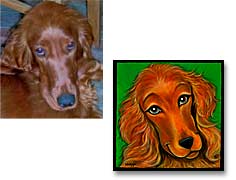 Scarlett, Irish Setter

Jenny Commissioned me to do Scarlett's portrait for her mom for Mother's Day, she writes: Mom, loved the card and can't wait for the finished product. I might have you give it to her when it is finished. I know she wants to thank you personally. Thank you for everything, you really made this Mother's Day special for her! I saw Scarlett's Product line and those are the sweetest things I've ever seen!!! Now I am going to have to buy some of the products. I'll have holidays that require gifts covered for a long time. Thanks so much,
Jenny Burzotta, Ocala, FL

Her mom writes:
Dear Maggie,
I loved the portrait of Scarlett! I think you captured her spirit beautifully. I also love the fact that I know the artist which makes it even more special. I appreciate the time and effort you put into it and it will always be treasured remembrance of her. Hope you have a great summer and a safe trip out west.
Debbie Bullard, Ocala, FL

---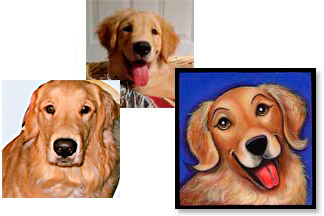 Eliot, Golden Retreiver


When I first saw Maggie's Angels at the "Bark About Art" Show in Ocala, I hovered over the booth trying to soak in all the beautiful art around me. I was amazed at how Maggie captured each breed so perfectly. I asked Maggie if she could paint my two year old Golden Retriever, Eliot, and she explained her process to me. Only then did I understand why her paintings are so captivating! Maggie not only looks at pictures of your dog but also wants you to share every detail about your dog's personality and if you are close enough, she will want to meet your pet too. Maggie's attention to detail is what makes each portrait so personal. Eliot's portrait depicts his loving, goofy, happy-go-lucky nature. Everyone who walks in our home and sees Maggie's depiction of Eliot can't believe how she has captured him so brilliantly. Maggie has a gift that continues to give. You cannot help but smile when you look at Eliot. Thank you Maggie.

Julie Shealy, Ocala, FL
---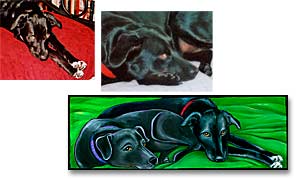 Landen Gray & Katie Scarlett, Black Labs


Maggie,
Like every other mother, I truly believe my kids are the cutest and the most beautiful in the world. Your portrait validates my beliefs. I love how you captured Landen's soulful eyes and how he keeps his ears slightly lifted so that he is ready in case I drop a crumb in the kitchen. It took two years for Katie Scarlett to tolerate her adopted brother being close enough to touch her. I can almost hear her growling when I see his head resting on her back leg. Although I had admired your work in the past, I didn't really comprehend how special it was until I saw the finished product of my own family. Thank you for capturing all the reasons why I love my kids and putting it on the canvas, and for all the hours you poured into making the kids jump off of my couch and into your work of art. We will definitely stop by the next time I visit Ocala. Your family is so fantastic and I enjoyed getting to see Luna.
Kimmy Owen, Ft. Myers, FL
---
Abby, Sealeyham Terrier and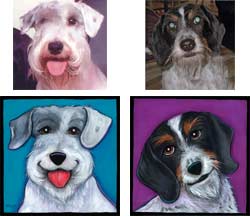 Smoochie, Wired Haired Dachshund


Maggie,
Thank you for creating these wonderful portraits. Smoochie is curious, always in trouble and very leary of strangers and strange things. He adores Ray and I, and It is our feeling he was mistreated before we got him and that is why he is soo timid. In the year we have had him he has learned to totally trust us and feels he is king of our house. He feels the squirrels have no right to be in his back yard, but he is kept in line by Abby, who does not think twice about boxing his ears if she thinks he needs it. The most fun thing for Smooch is hitting Abby in the face with his stuffed cow until she takes hold of it and plays tug of war with him. Anyway he is quite a character, and I love him, and you captured him just like we see him. Abby is blind, sweet and lovable. Does nothing wrong, and is happy all the time. We loved how you captured
her spirit as well.
Thanks so much for everything. It has been a pleasure.

Linda & Ray Burfield, Leesburg, FL
---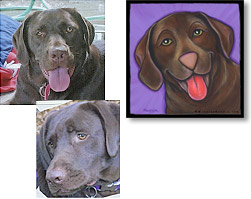 Chloe Marie, Chocolate Lab


Maggie,
Wow...have I got the giggles...why you ask..because my silly dog Chloe is now one of Maggies Angels. About a year ago...I found Maggies collection of angles and just fell in love with all of them. The colors and the way she captured each and everyone of those darling pets were amazing. But, no chocolate labs. She told me that she was looking for one and wouldn't you know..I just happened to have one..I told Maggie you have to paint Chloe. She has so much personality that she makes us laugh everyday. Finally the day came when Chloe was about to be captured into the hearts of every dog lover..."Here I am" claimed Chloe ready to melt your hearts...Maggie was able to capture the way we look at her. Everyone Loved the portrait of Chloe! Even chloe was impressed...she wanted to kiss it....it was so cute.....I love the merchandise line, specially the "I love dogs"....it's soooo cute.... Thanks for including Chloe in it. To this day...I have to tell everyone that Chloe is now a "Star". Maggie is such a wonderful person and I am so excited that I can be a part of her life. I have to tell you she puts all of her heart and soul into all of her creations...and she really listens to what the owner has to say... she will not stop her creation until she is truly happy with it. Much success to a well deserved person. I too will spread the news about Maggies Angels...Everyone has to have one in their collection!
Congrats!!! on such a great job....

Diane Thomason, Ocala, FL.
---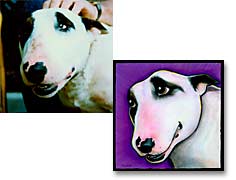 Jack, Bull Terrier


Hi Maggie,
I just received the much awaited portrait of our "Jack dog" the bad boy bull terrier we all loved and were tormented by for about 13 years. You caught the repentant criminal persona to perfection. Jack's portrait brought back great memories of the times we had with him. Our pets represent more than animals we possessed. Our now almost complete wall of Angels (and one bandit) is a condensed family journey, now, into our third decade. That wall will forever touch the hearts of our family. Your friendship enhances the paintings.
Thank you so much

Bubba Hodge, Ocala, FL

I love the card. It will have a special place in our Shoe Box of tender memories.
Hi!
Jack is so awesome....I think he's the handsomest dude on your doggie wall! ha ha
Love, Sherry Hodge
---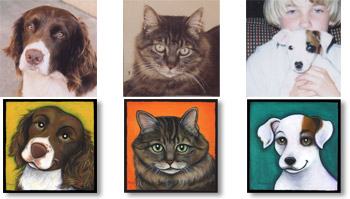 Duke, English Springer Spaniel
Lucy, Jack Russell
Frank E. Hodge, Long Hair Brown Cat
Maggie,
I can hardly wait to surprise my husband with these sentimental portraits of our pets for our anniversary next week! It's the perfect gift for someone who doesn't like "store-bought" presents, and I know he will love each one as he does our loyal animals. Can you make my face look that cute?
After Bubba gave me a very nice present, I brought out the bag of pet portraits and said, "I don't have much for you...just some pics of the kids.." and when I brought out Lucy's face, he just was overwhelmed...then Duke..and he was so touched...but when I brought out old Frankie, he just was floored! Thank you so much for helping me touch my he-man's heart in a way that makes him know how much I treasure our life and its blessings. Have a wonderful trip, knowing that your gift ( or one of the many you have), is to touch others, and you do it in a very loving way. I weep as I write this, so grateful to have had your help in giving my husband the perfect gift!

Sherry Hodge, Ocala, FL.
Hi Maggie
I love the portraits of our Pets. They really turned out nice as I knew they would. It is clear that you really put your heart into your work. They are very special. I will have a picture of Jack our deceased Bull Terrier for you when you return from your summer trip so that he can join the others on the wall. Thanks!
Bubba Hodge, Ocala, FL.

---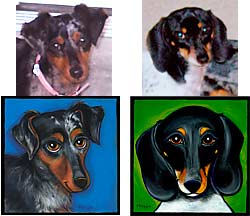 Edy and Cloe, Dachshunds

"I LOVE the paintings of my sweet Edy and Cloe!!!!! Working with Maggie was such a joy. Her artistic talent and love of animals shines through in her paintings. I truly couldn't be happier with the whole experience from beginning to end!!!!!" I know that sounds kind of corny, but it really is how I feel. P.S. My husband, Steve loves the paintings too!"

Nicki Lossing, Ocala, Fl.
---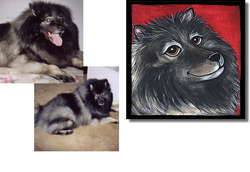 Basil, Keeshond
A good friend commissioned you to paint my best friend "Basil" for me for Christmas. I absolutely love it! I was floored when I opened it. I'm like a mom with a new baby. I show it off to everyone. I also received the checkbook cover and a key chain. Your talent makes me smile. I have the portrait on an easel and I took the photo copy to my office. I also have a copy of Ocala Style magazine on my coffee table! He's famous! Thank you!

Valerie M.,
Ocala, FL
---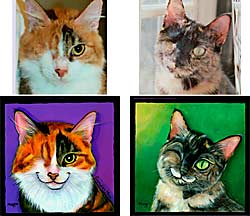 Camden Mae, Callico Cat and Gracie Anne, Tortoise Shell Cat


Hey Maggie,
Thank you for making my cats look so beautiful. As you know,these sisters were rescued by a landscaping crew and taken to my vet's office as kittens. They both barely survived their viral upper respiratory infections and each lost an eye to the disease. When you first showed the finished portraits to me all I noticed was how perfectly their personalities were captured, I didn't even notice their right eyes, or lack thereof. Despite their physical imperfections, my cats and their portraits are perfect!
Thank you.

Jen Owen, Ocala, FL

---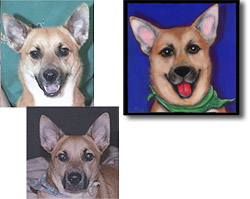 Fynnigan Wade, Jack Russel/Shepherd Mix

Maggie,
Fynnigan practically jumps off the wall. That's exactly how he is in real life. What would you expect from a Jack Russel/Shepherd mix? I love how excited and engaging he is in his portrait. Thank you!

Jennifer Owen, Ocala, FL.
---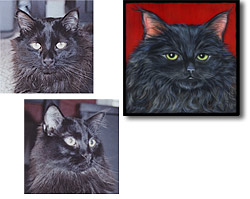 Jack Beckett, Long Hair Black Cat


Jack is clearly your most handsome portrait yet. He reminds me of a 'bored prince' and you've captured that perfectly in his portrait. Thank you!

Jennifer Owen, Ocala, FL.

---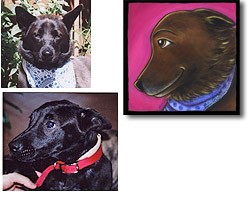 Lili Flower, Shepherd Mix


Maggie,
"Shawn Loved the painting! He thinks you've really captured Lili's spirit. He thinks her mouth and eyes are perfect in her expression. It looks so good next to Taralee's portrait. Thanks again!"

Jennifer Owen, Ocala FL.

---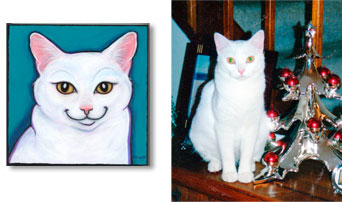 Sophia Helen, White Cat

Maggie,
Of course, Sophia's portrait is the standout. She looks so life-like You're really hitting your stride, aren't you? I have absolutely LOVED the last couple of portraits you have done. You've been able to make them look so lifelike and yet whimsical at the same time. I smile every time I look at mine on the wall. Shawn and I Love it! I can't wait to see how Jack will turn out.

Jennifer Owen, Ocala, FL.
---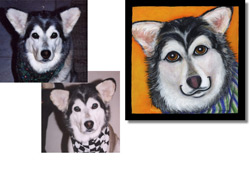 Taralee, Malamute Mix


I knew from the first time that we talked about Taralee's portrait that you were going to make it special, but I didn't realize that you wouldn't rest until you captured the exact way that Taralee is seen through our eyes. Her painting is exactly how I would paint her if I had the same gifts that you do. I love that you spend so much time getting a feel for how the owner sees their pet. It really comes through in the end result. I don't know what I value more, this beautiful work of art or my friendship with the artist that resulted from all of our consultations! Thank you so much for sharing your gift with us.

Jennifer Owen, Ocala, FL
---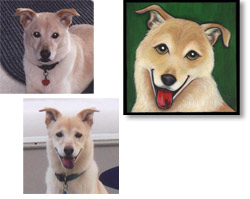 Brandi, Lab Retriever Mix


Cindy commissioned me to do Brandi's portrait as a Christmas gift to her husband, this is what she wrote;
My husband was so very surprised by the painting of Brandi. He loved it! My family also loved all of the "Brandi accessories" that I gave them! Brandi coffee cups, journals, calendars and a Christmas ornament. It was a lot of fun. You captured Brandi's personality perfectly. You are a very talented person and such a pleasure to work with.
Thank you again,

Cindy Schmid, Ocala, FL.
---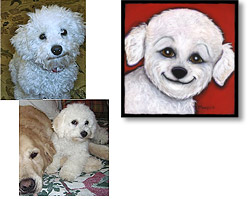 Abby, Bichon Frise Poo


Dear Maggie,
We are constantly amazed by how prophetic your portrait was of our beloved Abby...she was so so tiny when you painted the portrait, and she how grown to look AMAZINGLY like the dog you foresaw! We have the original at home and Whit has the copy at his office, next to pictures of his family, she is truly family. We now have another 8-month Bichon Poo whom we named "Tebow" (after the UF quarterback, of course!) and we would love to have you do a portrait of him, please call me when you get a chance and we can plan to get together.

Diane Palmer, Ocala, FL.
---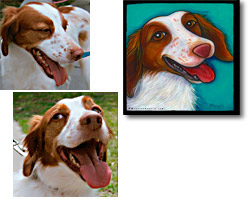 Jesse, Brittany


Chris surprised her husband with the portrait of Jesse for his Birthday, she writes; Alan loved the portrait of Jesse! He said it was the best birthday present yet. I think I was as excited for him to open it as he was. You captured Jesse's sweet, quirky and pleasing personality perfectly. I really enjoyed meeting with you and talking about all our animals. I look forward to having you do portraits of the rest of our menagerie! By the way, the merchandise is so cool! I will definitely be ordering some items, they were all so cute.
P.S. I put one of the prints of Jesse up at my desk in our new office. She brightens up my day! Thanks!

Chris Youngblood, Ocala, FL.
---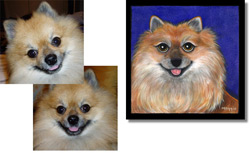 Rio, Pomeranian


We commissioned Maggie to do a painting of our daughter's Pomeranian Rio. Maggie captivated his personality and almost made my husband cry when he saw it. My daughter will have a happy birthday because of Maggie's commitment to her angels. (Evelyn writes after giving the painting of Rio to her daughter) Natalie loved her painting of Rio- it is special.
Evelyn B. Kelly, Ph.D., Ocala, FL
---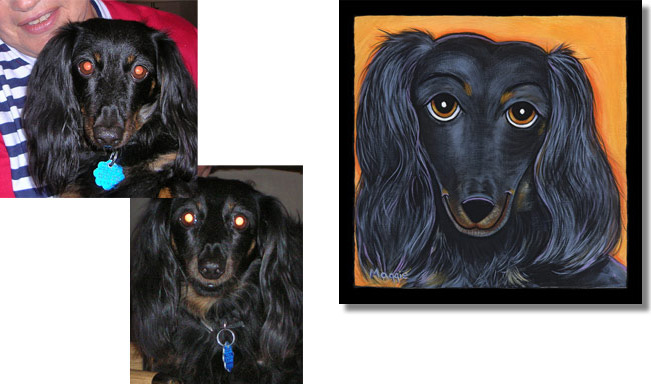 Deacon, Long Hair, Dachshund

Pat surprised her husband, Bob, with a portrait of his beloved Deacon for his Birthday, she writes; I want you to know that my husband loves the picture of Deacon and was he ever surprised. It was so funny. He never asked about the bag or anything when I put it in the car. Everyone loves the picture too. Thanks for doing such a wonderful job. I wish you only great success in all your endeavors.

God Bless, Pat Greaves, Ocala, FL
---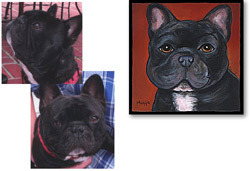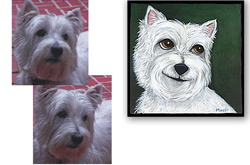 Frazier, Westie and Louis, French Bulldog

I love your work–it brings out the character of each of our dogs!

Bill Futch, Ocala, FL
---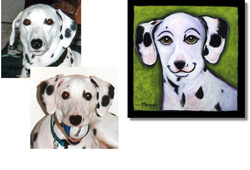 Heissman, Dalmation


Thank you so much for the wonderful work you did on Heisman. My whole family is amazed on how you were able to capture her personality. When meeting with you to talk about Heisman, I could see how your caring and love for your work gets portrayed in the finished product. Loosing Heisman on January 12th was more difficult than I could have ever imagined. Most people do not understand, after all, she was just a dog. She was my best friend and loved unconditionally. Now, everyday I see her face and it makes me smile! I thank you for that.

Don Beaudet, Inverness, FL
---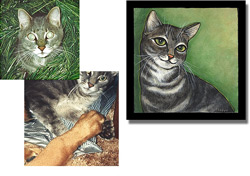 Junior a tribute to her Kitty

"Maggie, I just love it! It looks just like him and how he would look at me. I wanted to tell you how good Junior looks on the wall. I can not wait for my daughter to come home on Friday and see him there! She knew you were painting his picture but she doesn't know that it's done so it will be a big surprise. Just wish I could be there when she sees him. Of course, then we'd both be crying. She's just like her momma...very emotional when it comes to animals particularly our pets. Thanks a million. :)
Jennifer Blair, Ocala, Fl.

---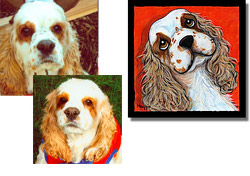 Reagan, Cocker Spaniel

"Thank you so much. We love the painting! Actually, you captured a look Reagan gives us all the time when he wants a treat, he tilts his head just like in the painting.( It's like he's saying "Oh please may I have a treat?" AKA- his begging look ) Every time I tried to take a picture of him doing that, he wouldn't do it. I'm so happy that with the pictures I sent and the description I gave, you were able to bring this look out in the painting. I have one in the living room and one in my office and the bookmark in the car. Everyone that sees it thought it was a beautiful portrait of Reagan."
Marianne Huston, Irvine, CA
---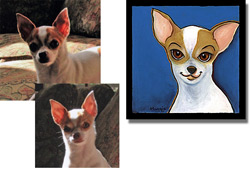 Holly, Chihuahua

Maggie did this delightful portrait of my daughter's beloved Chihuahua, Holly, as the poster for Bark About Art, an art show inspired by Holly and all about dogs. She captured her ladylike and playful attitude that in turn captured the imagination of our entire town on billboards, ads, and posters - making the show a great success. We were so pleased with the portrait, we bought it and all of her other merchandise! Like our little Holly, Maggie's art brings joy to our family and also to our entire community. I am so pleased that she is sharing it with the world.

Paula King, Ocala, FL