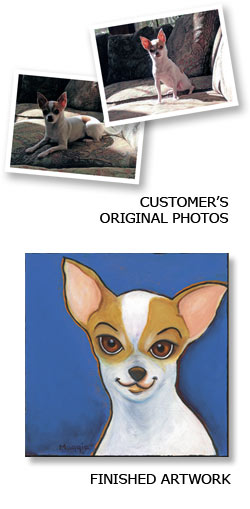 Maggie's Angels
Commissioned Custom
Pet Portraits
View Custom Gallery

Step 1
If you live close by, call me at 352-861-8003, we will set up a time to meet and talk about your little angel. Or your can e-mail or mail me a good photograph of your pet(s). Tell me all about their personalities, what they like, dislike, and any funny stories you can think of, so I get to know who your little angel is. This is how I get their personalities to shine through. You will also need to tell me what background color you would like.
Step 2
Your precious ones custom portrait is $250 (8"x8") or $450 (12"x12"). And your pet will have their own product line on the merchandise section of this website. Once 50% of the fee is received, the project begins.
Step 3
I create 3 different sketches from the photos you give me. You choose the one you love the most and I begin to paint your little angel. I work really hard, day and night, until its ready for you to see, and approve. I contact you, by sending an email with a digital proof of the finished artwork. If you live close by, you can come and see it at my studio.
You then decide if any changes are needed, and at that time I make them. Or you love it the way it is, and I begin the High Gloss Varnishing Process which takes about a week for the painting to fully dry.
Please keep this in mind when you order the portrait, specially if you have a specific date in mind, because each portrait takes about 3 weeks from start to finish, sometimes longer depending on my workload. I can create a commission in a shorter amount of time, but a rush fee will be applied.
Step 4
Once the artwork is finalized and approved, the remainder of the price must be sent. Once the payment has been received, your artwork will be shipped at once.

Step 5
You will receive your Angel's Custom Portrait, then you can browse all the merchandise your little Angel's image appears on. What a deal!
I hope you will then ENJOY the happy, bright, and colorful portrait for the rest of your life!
Can't wait to hear from you,
Maggie :)
Thank You!