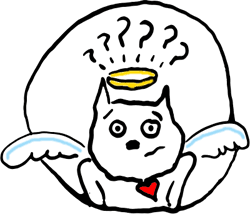 Questions & Answers about
Maggie's Angels!

How do you come up with all the images you create?
Photos are the best source I use, whether its yours or mine I rely on them to provide details about each animal. Every animal has its own unique personality and special markings. For commissioned work, I work with the pictures you send me, then once the art is completed I send the photos back to you with the final piece. My paintings are animated, bright, and whimsical; but I also incorporate the realistic features of the animals I paint.
What materials are used in your original works?
I use acrylics on 3/4" wood board. It is sanded and then sealed with a white acrylic base coat 3 times on the top, sides, and back. The sides and back of the board are then painted black to give an elegant finished look, and finally sealed with a gloss acrylic seal for protection. A routed mounting slot is also provided, so all you have to do is hang it on the wall and enjoy!
What is the quality of the prints you sell?
They are magnificent! You can see all the textures, details, and colors from the original artwork. I print on Premium Archival Paper for a print that will not fade or color shift for over 100 years, if displayed in normal indoor conditions and out of direct sunlight. Each print is protected and supported by an acid free mount board and sealed in a high quality clear package.
Can you paint any kind of animal?
Yes, I can paint any pet you have, with any color scheme your heart desires.
How much do you charge for a custom piece?
Please go to the commission page to see all the prices.
What size do you paint?
I work in a square format. The pet portraits are produced on an 8"x8" or 12"x12" square wood board, but you may customized the size to your liking. If you are ordering a custom portrait, you will also receive (2) FREE archival 8" square prints. Additional custom prints can be made at various sizes to meet your needs.
How long does it take to create "My" painting?
It all depends on what you want. 2-3 weeks is about normal. I'm creating a one-of-a-kind keepsake of your loved one, so I work on it as long as possible to make sure we both love it! During the holidays it gets busy, order early so you can get it back in time for Christmas, Birthdays, Mother's Day, Father's Day, Retirement Day, or ANY day that is special to you. Don't wait, order early!
How do I pay?
I accept money orders, and direct payment via PayPal. 50% of all commissioned work must be paid in advance, with the remainder due upon completion.